1-Minute Salted Caramel Sauce (Paleo, AIP, Vegan)
Many homemade caramel sauce recipes require cooking on a stove top. I find that extra effort a little off-putting when I want something quick, so I'm happy to say this salted caramel sauce is about as easy and fast as it can possibly get! It just takes 5 ingredients and 1-2 minutes of your time to make. The only cooking involved is melting the coconut butter in the microwave. Plus, it is of course, Paleo/AIP friendly, gluten-free, dairy-free, and vegan. 
When it comes to desserts, there's something about the idea of salted caramel that is so darn satisfying. On the rare occasion that we visited an ice cream shop pre-AIP diet, salted caramel was at the top of my list for flavor of choice if they happened to carry it. 
This is the same salted caramel sauce used in my Pumpkin Cherry Cake with Salted Caramel Glaze, but I wanted to make a separate post for the sauce because it can be used on so many more things!
**Just a quick heads up- this post contains affiliate links which means if you click on them and buy something,  I will earn a small commission (at no additional cost to you) to help continue maintaining this site.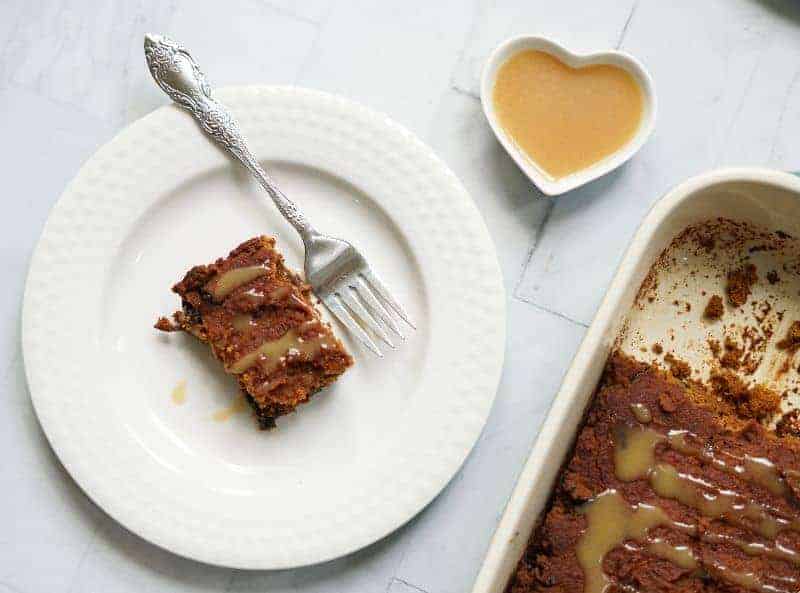 A Few Simple Ingredients:
Caramel Sauce Uses
Drizzle over cake or dessert bread

Dip apples or other fruit in it

Drizzle over Paleo/AIP bread pudding

Use as a topping for ice cream

Use as a glaze for cinnamon rolls, doughnuts, and cookies
Storage
This will stay fresh in an airtight container in the fridge for at least 4-5 days.
If you like this recipe, you may also like: 
Pumpkin Cherry Cake with Salted Caramel Sauce
Simple 4 Ingredient Caramel Sauce
Conclusion
I hope you enjoyed this recipe. If you made it, leave a comment below and let me know what you thought. I'd love to hear from you!
Don't forget to follow me on Instagram @foodcourage for the latest AIP/Paleo recipes and Food Courage happenings!
Instructions
In a small bowl, mix the caramel sauce ingredients and enjoy!
Notes
To melt the coconut butter, microwave for up to a minute or until mostly melted (should be at least softened).
This will stay fresh in an airtight container in the fridge for at least 4-5 days.
Recipe makes about 3/4 cup of sauce.
---
---