I'm excited to share this unboxing with you guys! This post is sponsored by ShopAIP- they sent me 5 products to try out, so I'm going to show you what I got! Some of these products are bestsellers on ShopAIP and others are brand new on the site. 
What is ShopAIP?
If you're not familiar with ShopAIP, they're an online AIP-friendly store where you can get hundreds of AIP-friendly foods and personal care products. 
The cool thing about their site is that it is organized according to the stages of AIP- elimination phase and phases 1, 2, 3, and 4, so there's no confusion about what's compliant and what's not. It saves a lot of time when you're not having to analyze the labels on a million different products before making a purchase.  
They've also added other diet-specific options like Whole30, low-carb, and low-FODMAP, so it's easy to find foods that work for other restrictive diets as well.  So, here we go with the unboxing!
**Just a quick heads up- this post contains affiliate links which means if you click on them and buy something,  I will earn a small commission (at no additional cost to you) to help continue maintaining this site. 
Breakfast tends to be tricky for a lot of people doing AIP, so I get excited when I see convenient AIP compliant products like this. This muesli, aka AIP granola, is a popular product on ShopAIP.
It contains just a few simple ingredients:
Unsweetened Banana Chips
Organic Raisins
Toasted Coconut Chips
Organic Tigernut Flakes
Organic Cinnamon
Himalayan Pink Salt
The flavor balance is just right between the sweetness of the fruit and the hint of cinnamon and sea salt. I found compliant coconut yogurt at Kroger over the weekend, so I've been adding the muesli to that. It's awesome! It's my favorite snack. 
You can eat this with a splash of coconut milk or whatever milk you prefer. Alternatively, just eat it straight as a snack, pour it over some coconut yogurt, or mix it with tigernut butter. 
AIPeazy also has a bunch of other AIP friendly products like: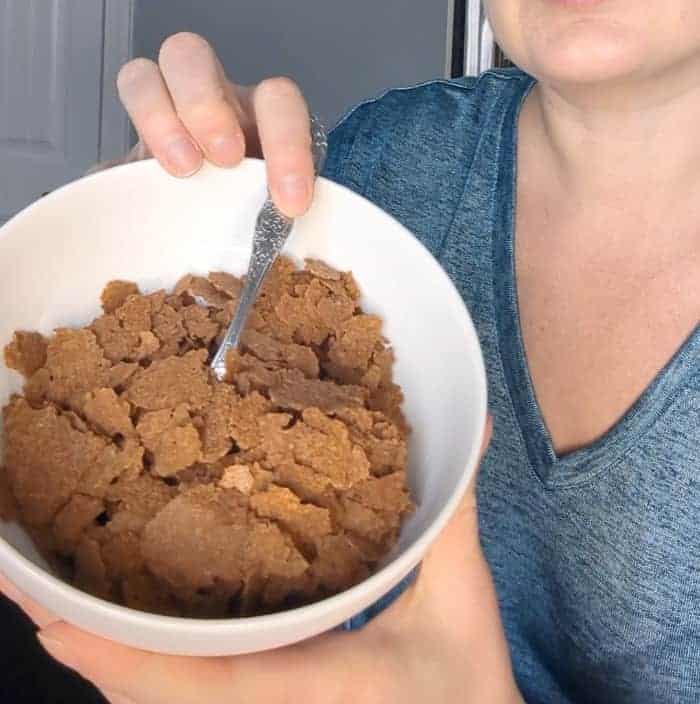 I'm really liking this stuff. It's another great breakfast cereal- this is good with some coconut milk as well or eaten by itself. It's got a subtle crunch and a hint of cinnamon. It looks kind of like bran flakes to me. I like that it's not too sweet. 
This cereal contains only 4 ingredients: 
Organic Coconut Water
Organic Coconut Meat
Organic Palm Starch
Organic Cinnamon Powder
I also love that it's:
Organic
Contains No Added Sugar
Contains MCT's from Coconut Oil
It's a decent-sized box for the price and for being an AIP-friendly product. 
I made a yummy cinnamon raisin AIP breakfast bar recipe with this cereal.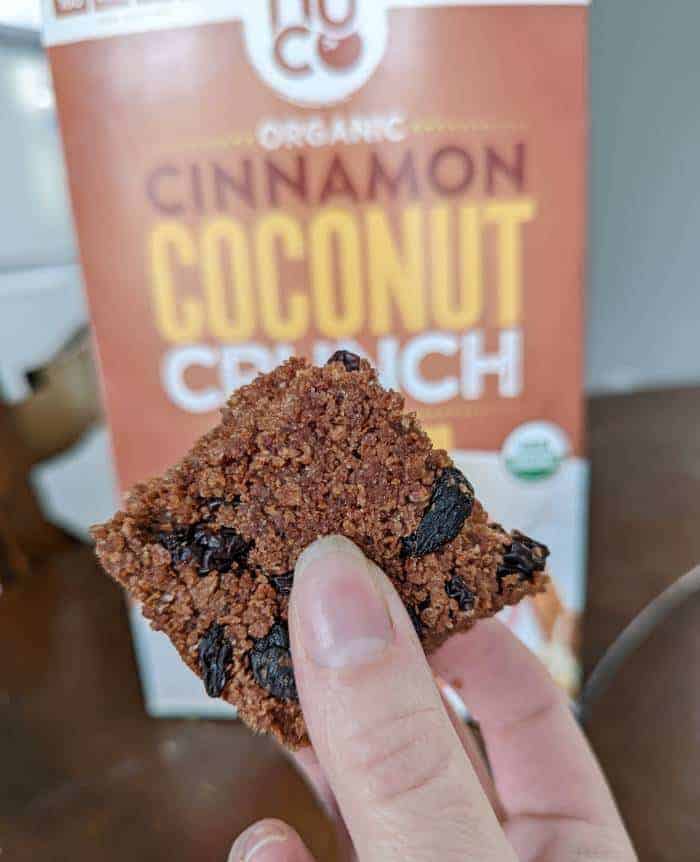 This product is new on ShopAIP's site. It's exciting to have a convenient ready-made salad dressing option. It's Dairy, Egg, Oil-Free. 
Here are a couple of initial observations: 
Creamy, good "mouthfeel"
It tastes fairly ranch-like but the onion and dill flavors are a bit stronger than I'd prefer.
It's very thick when refrigerated- so great for dipping but a bit too thick to pour.
*So here's what I did- I mixed in a little bit of coconut milk with some of the dressing. This thinned it out a bit and made the flavor a little milder. 
You can use this dressing on salads, veggies, meats, with AIP-friendly chips, casseroles, marinades, and for coating meats before adding breading.
If you're not familiar with KC Naturals' line of AIP friendly condiments, they've got a bunch of great options: 
Eat Gangster Caro'Bout Fudge Cookie Mix
If you're ever tried an AIP baking, you know it can be hard and sometimes disastrous! So, it's awesome to have some standardized pre-made mixes that you can just add a few ingredients to and know it will turn out fantastic.
This cookie mix was so easy to use- you just add a little coconut oil, water, and maple syrup. Check out my video above to see how this went. The texture is great and they're really yummy little things. My daughter was particularly impressed.
One note about these cookies, since they're carob-based- Carob does taste a little different than chocolate. Some say carob has a slightly bitter taste though I think the carob flavor in these is very mild.
Speaking of carob, I've also tried their Dark Choconot Fudge Cake Mix and it's delicious!! The texture is fluffy and moist and they taste pretty close to chocolate to me. Plus I made a coconut date frosting recipe to go with them for German "chocolate" cupcakes. They're absolutely wonderful. 
If you are not a big carob fan, there are a bunch of other great baking mixes that Eat Gangster makes such as: 
Sugar Cookie Mix- I made these ones as well (Eat Gangster sent me some to try) and oh my goodness! These taste EXACTLY like sugar cookies. Wow. They don't spread out as much as I'd expect during baking but that doesn't bother me. The taste and texture are perfect. You can also use them to make cut-out cookies!
Cool Fact: G.A.N.G.S.T.E.R is an acronym for:
Grain-Free
Almond and Peanut Free
Nightshade Free
Gluten-Free
Soy and Seed Free, 
Tasteful
Egg and Dairy Free
Real Food
Brain fog is a common struggle for people with autoimmune disease. I'm no exception, so having a comforting/tasty go-to drink specifically help target that issue is really nice. 
The taste of AutoimmuniTea's brain fog blend is overall a mild minty flavor- very pleasant. I will definitely continue drinking this. As far as the brain fog goes, I do feel a little more focused and on task when I drink it but who knows if that's just a placebo effect. It may take a little time to see if this really helps with brain fog. Either way, it's a nice warm comforting drink to have in place of coffee!
This brain fog tea contains: 
Organic Peppermint (leaf)
Organic Ginkgo (leaf)
Organic Turmeric (root)
Organic Green tea (leaf)
Organic Gotu kola (leaf)
Organic Tulsi (leaf)
Organic Rose petals (flower)
The cool thing is AutoimmuniTea has a bunch of other autoimmune friendly blends including: 
The great thing about these teas is that they're all AIP compliant. Teas tend to have a lot of questionable ingredients when it comes to AIP compliance. I feel like I've spent a ton of time standing in the tea aisle at the grocery store trying to look up random obscure tea ingredients. Autoimmuntea takes the guesswork out of it. 
These are loose leaf teas- you can use a tea infuser to prepare if you have one. I personally don't have one so I just use my coffee press which works fine. If you also don't have a coffee press, there are a bunch of easy ways to prepare it without having to buy something. 
You can even just brew the tea leaves in a cup of hot water and then use a small plate to block the leaves as you pour out the tea. 
Conclusion:
I hope you found this post useful. If you've shopped at ShopAIP, what were some of your favorite finds there? Leave a comment below!
Don't forget to follow me on Instagram @foodcourage for the latest AIP/Paleo recipes, autoimmune nutrition info, and Food Courage happenings!
If you enjoyed this post, you may also like: 
AIP Breakfast Bars with Cinnamon and Raisins
AIP Frosting for German "Chocolate" Cupcakes + Eat G.A.N.G.S.T.E.R. Review
57+ AIP Pantry Items and What to do With Them