This very creamy, comforting, "cheesy" soup is filled with gut-healing nutrient-rich ingredients like bone broth, cauliflower, carrots, and coconut milk. Being someone who loves cheese and is doing an autoimmune Paleo diet, it's nice to have completely dairy-free "cheese-like" meals to fall back on when needed.
If you're looking for more recipe ideas, I've got a huge AIP Chicken Recipes post with tons of recipes.
**Just a quick heads up- this post contains affiliate links which means if you click on them and buy something,  I will earn a small commission (at no additional cost to you) to help continue maintaining this site. 
A Versatile Soup Base
This is an incredibly versatile soup base- I've added green chiles to it (when not doing AIP) and it was fabulous. You can also add other veggies to it (not blending them in), like mushrooms or broccoli.
Works Great as a Cheese Sauce
It also works well as a cheese sauce; just omit the chicken. It would be awesome with some salsa or canned tomatoes with chiles added in (again, if not doing AIP). 
Tapioca Starch and Soup Thickness
When the soup finishes cooking, the recipe calls for 3 tbsp tapioca starch and 1/4 cup water to be slurried together and added for thickening. This makes for quite a thick soup or sauce. If you don't want a thick soup or don't want the carbs that come with tapioca starch, either don't add it, or add 1 tbsp tapioca starch at a time (slurried with ~ 1 tbsp of water) until you reach a thickness you like.  
Type of Cauliflower To Use
For sake of ease, I just used cauliflower rice from a frozen steamable bag, but you can of course use fresh roasted cauliflower instead.
If you decide to use roasted cauliflower, cut the head of cauliflower into florets, spread it out on a baking sheet (I like to place parchment paper underneath it). Next drizzle with olive oil, sprinkle with salt, and bake at 450 degrees Fahrenheit for about 20 minutes or until cauliflower is somewhat browned. 
About Coconut Milk and Guar Gum
If you're doing Paleo/AIP or Whole 30, you may have noticed that it's not easy to find coconut milk that is not made with guar gum. I personally haven't found any at our local stores. I generally shop and Kroger or Wal-Mart and don't live near any Trader Joe's, Sprouts, or Whole Foods Stores. Thai Kitchen's "Two Simple Ingredients" coconut milk is by far the best I've tried. I get from Amazon and have it on a subscription.  It's so good.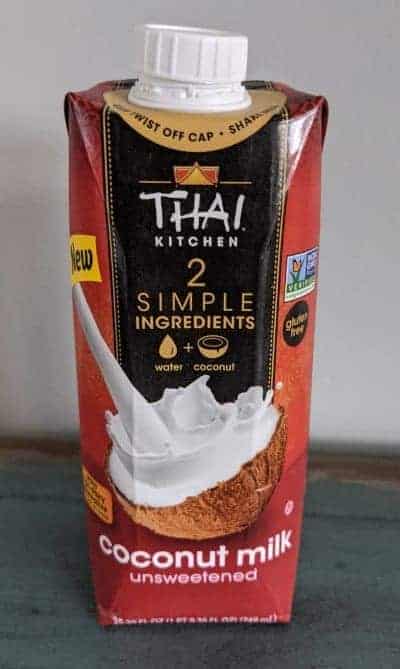 Can I use Frozen Chicken?
Yes! Just add 3-5 minutes to your cooking time. 
Do I need to Cook or Peel the Carrot?
Nope! Just cut off the end and chop the carrot into a few pieces, then add to the blender with the other ingredients.
How Should I serve this soup?
This is great by itself but here are some topping ideas:
Avocados
Sliced olives
Toasted sweet potato strips or chips
A drizzle of coconut cream
Fresh Chives, Basil, Parsley
Plantain chips
Banana peppers (If not doing AIP)
Plain Coconut yogurt
Paleo Crackers crumbled on top
Serve with Paleo tortillas for dipping or shredded on top if desired.
"Cheesy" Cauliflower Chicken Soup (Paleo AIP, Whole 30, Gluten Free, Vegan Adaptation Available)
This soup is very creamy and comforting with the added benefit of cauliflower and carrots hidden within.
Ingredients  
To be added after cooking is complete
Instructions 
Close lid, turn steam valve to "sealing." Turn IP on high pressure and set to 10 minutes.

Once cooking is complete, allow steam to naturally release by opening the steam valve. Once steam release is complete, carefully open lid.

Make a slurry with 3 tbsp tapioca starch and 1/4 cup water and add to soup. Stir.

While soup thickens, shred the chicken with 2 forks. You can do this in the pot or take the chicken out and shred it on a plate, then add back to IP.

Garnish with fresh avocados and serve.
Notes
Vegan Adaptation: Omit chicken and add any other desired igredients
For frozen chicken, add 3-5 minutes to cook time.
Store in the refrigerator for 3-4 days in a tightly sealed container.