This easy nightshade-free bbq sauce is apricot-based, tangy, sweet, and delicious not to mention completely gluten-free, dairy-free, Paleo, and AIP compliant. If you like this sauce, you may also like my Pineapple Bacon Dipping Sauce or Pork Ribs with AIP BBQ Sauce.
I'd call this more of a vinegar bbq sauce and it goes perfectly with beef, chicken, veggies, and plenty of other things. 
The apricots provide just enough sweetness without overpowering the flavor of the sauce.
The recipe calls for just one date which may sound a little silly- it's just what I used when I made it and I liked how it turned out BUT if you don't want to buy a bunch of dates just to use one date for this sauce, you can sub in 2 apricots for the one date. 
**Just a quick heads up- this post contains affiliate links which means if you click on them and buy something,  I will earn a small commission (at no additional cost to you) to help continue maintaining this site. 
How to Make an AIP BBQ Sauce Without Tomato Sauce or Ketchup
So, how do you make BBQ sauce from scratch without ketchup or tomatoes? Making tomato-based sauces without the use of tomatoes, peppers, or any other nightshades while doing the autoimmune protocol is tricky but doable. It definitely inspires some creativity. 
Usually when it comes to making homemade AIP compliant BBQ sauce, marinaras, and other nightshade-free condiments, recipes often call for stone fruits like peaches, nectarines, plums, mangoes, apricots, dates, and cherries in place of tomatoes and/or peppers.
I started out wanting to make darkly tinted BBQ sauce that looked something like a KC Masterpiece BBQ sauce but this sauce didn't turn out that color. It's fine though because the taste is amazing! 
The ginger in this recipe provides a tiny bit of spice without having to use paprika (a nightshade spice) or black pepper (a seed-based spice).
Tips
If your dates and apricots are very fresh, you probably don't need to soak them but I like to soak mine before making the sauce because it makes it a lot easier to blend them and makes for a smoother sauce. 
When you blend it, I recommend using a small food processor or single-serve blender cup. You may be able to blend it in a regular-sized blender but probably will need to scrape the sides down a few times due to the small amount of ingredients. 
Storage
This will stay fresh in the fridge for about 5 days in an airtight container.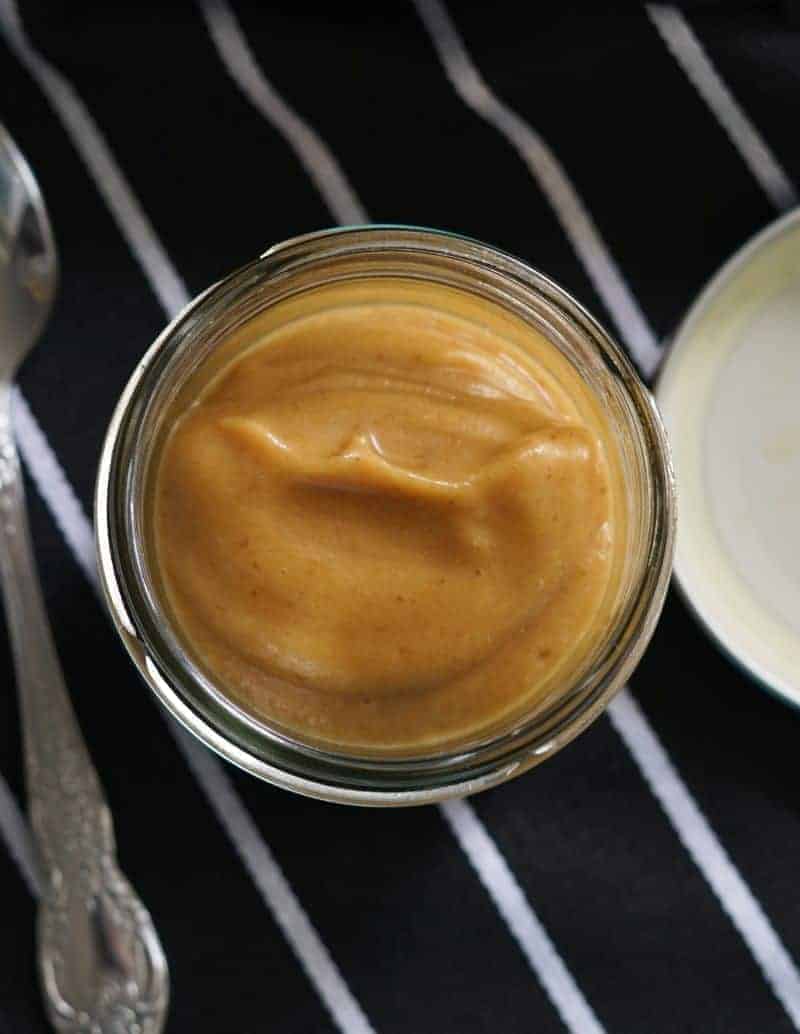 AIP BBQ Sauce Ingredients:
Dates- I generally used Medjool dates. They should be soaked and pitted. You can sub in more apricots for the dates if you choose.
Dried Apricots- These should be soaked first. Go with organic if possible.
Apple Sauce- Make sure it's unsweetened. This makes a great sauce base and adds natural sweetness and a good texture. I like to buy the 4 oz cups rather than a big jar so it doesn't go to waste. 
Apple Cider Vinegar- This gives the sauce a good tang. 
Maple Syrup- The darker the syrup the better as far as antioxidant content goes. 
Bacon Grease- Firstly, I didn't necessarily want to use bacon grease for this recipe because it's added work and effort that has to go into making the bacon for the sauce, and who doesn't want an EASY recipe?! I tried to avoid it but the sauce just isn't BBQ sauce without the smoky flavor that bacon grease provides. 
To avoid having to make bacon every time you want to make something calling for bacon grease, consider saving your bacon grease in small portions whenever you make bacon. You can freeze it for up to a year! 
Also, if you don't want to fuss with cooking bacon in general but still want to add smoky flavor to your BBQ sauce, consider replacing the salt in this recipe with a smoked sea salt (which you can get on Amazon). I just recently discovered this stuff so I haven't tried it in this recipe yet but I certainly plan to soon!
If you're going the bacon grease route, try to use nitrate-free, uncured or naturally cured bacon, with no spices other than salt.
US Wellness Meats has a great AIP section which includes AIP compliant bacon.
Paleo On The Go also sells a nitrate-free, uncured, sugar-free bacon that is compliant. 
Garlic Powder, Onion Powder, and Sea Salt round out the flavor of this sauce. 
If you enjoyed this post, you may also like: 
Tangy Honey Garlic Dipping Sauce
57+ AIP Pantry Items and What to do With Them
Conclusion
I hope you enjoyed this recipe. If you made it, leave a comment below and let me know what you thought. I'd love to hear from you!
This post is shared on the Paleo AIP Recipe Roundtable.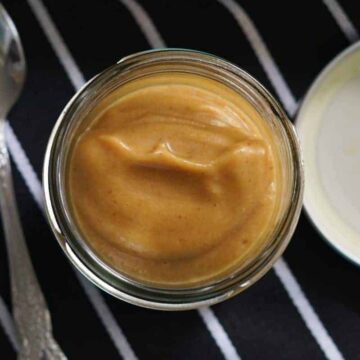 Nightshade Free BBQ Sauce (AIP, Paleo, GF)
This mouthwatering, apricot-based BBQ sauce is AIP-friendly, nightshade-free, and tastes amazing on almost anything.
Equipment
Food processor or blender
Instructions 
Soak apricots and date in hot water for about 15 minutes to allow them to soften. If you don't have dates, you can sub in 2 more apricots for the date. After 15 minutes, drain the water. Remove the pit from the date.

Add ingredients to a small food processor or high-speed blender (single size blender cups work best if you have one). For a regular size blender, you may just have to scrape the sides more until it's all incorporated and smooth. Pulse a few times at first, then blend until smooth.
Notes
Store in an airtight container in the fridge for up to a week. 
If you don't want to fuss with cooking bacon in order to use the bacon grease for this recipe, consider replacing the salt in the recipe with smoked sea salt to add that smoky flavor to the sauce. 
This recipe makes about 1/2 cup of sauce.
Nutrition
Nutrition Facts
Nightshade Free BBQ Sauce (AIP, Paleo, GF)
Amount per Serving
% Daily Value*
* Percent Daily Values are based on a 2000 calorie diet.