AIP Shepherd's Pie (Paleo, Whole30, Gluten-Free)
Shepherd's pie is the ultimate warm gooey comfort food and there are many ways to do it. This AIP Shepherd's Pie only takes a few simple swaps from the traditional dish to make it compliant. It's perfect for cold evenings and you can prep it ahead of time if needed. It of course doesn't hurt that it's Paleo/AIP, Whole30, and gluten-free.
When I made the mangu recipe (mashed plantains) last week, the first thing my husband said when he tried it was "You should add ground beef to this." This immediately made me think of shepherd's pie.  Mangu, tastes so much like mashed potatoes. Thus, I figured mashed plantains would be a perfect topping for a nightshade-free, AIP friendly shepherd's pie. 
This recipe takes a little more effort than some. However, if you're wanting a super hearty home-cooked meal for a cold day, it's worth the effort. 
**Just a quick heads up- this post contains affiliate links which means if you click on them and buy something,  I will earn a small commission (at no additional cost to you) to help continue maintaining this site. 
AIP Shepherd's Pie Ingredients
Make sure these are GREEN. If they're not, it'll ruin the whole dish. 
A little bit of coconut oil added to the plantain mixture adds a bit of richness and mouthfeel to them. Avocado oil works as a replacement. Olive oil is ok too but preferably not extra-virgin as it may mess with the overall flavor of the dish. *Generally, extra-virgin is the "healthier" way to go, so this will be one of the few times I don't recommend extra virgin. 
You'll reserve some water from boiling the plantains and add it to the mashed plantains. Alternatively, you can use chicken broth.
This is used for the onions, I like to use olive oil or avocado oil, However, coconut oil is fine too. 
White onion or red onion are acceptable as well.
When you cut the carrots and parsnips, be sure to cut them nice and small. To give you a frame of reference for size, think about the peas and carrots that come in a can (or frozen). 
The parsnips should be cut nice and small as well (see carrot comment above). This ensures that they cook in a timely manner. Make sure they're all about the same size too. If you don't have parsnips or don't like parsnips, you can use other veggies like brussels sprouts, butternut squash, cassava/yucca, etc. 
The recipe calls for 3 cloves of garlic but you can use powdered garlic instead if needed. Replace the 3 cloves with 1 ½ tsp of garlic powder
I really like using fresh herbs whenever possible because they impart so much flavor. However, if you need to use dried rosemary, you can replace the 2 tsp fresh rosemary with ½-¾ tsp dried rosemary. 
If using dried thyme, use ⅓-½ tsp in place of the 1 tsp fresh thyme in the recipe. 
Go with grass-fed ground beef if possible and try to choose one with a relatively low fat content (15% or less). This is because you'll be adding ground beef to the carrots and vegetables which need a head start with cooking.
If you're adding the beef to the veggies, it'll be a little harder to drain off extra fat. If you feel the need to drain off extra fat anyway, do it before adding the broth and spices.  
US Wellness Meats sells grass-fed beef and has a great AIP section.
Pretty much any sea salt is fine. Taste the mashed plantain mixture and the meat mixture before baking the dish. You can of course add a little more salt to taste if needed. 
Look for an AIP compliant broth with no additives or nightshades. This can be beef broth or chicken broth. I just happened to have chicken broth in the house so I went with that. Bone broth is ok too. 
The apple cider vinegar contributes just a little bit of tang to the meat mixture. I almost always add some sore of vinegar to hearty dishes like this because it adds another dimension to the flavor. 
Coconut aminos is another item that adds so much flavor to so many different dishes. It's hard to go wrong with it. 
This recipe uses just 1 tbsp of arrowroot starch to thicken up the sauce in the meat mixture making a sort of gravy. You could use even a tiny bit more if you want it thicker but be aware that too much of this stuff starts to make the sauce a little stringy and stretchy. 
You'll use a little bit of cold water mixed with the arrowroot starch to thicken the sauce and get a gravy-like sauce. 
How to Make AIP Shepherd's Pie
Traditionally, shepherd's pie (or cottage pie) consists of a meat and veggie layer topped with a layer of mashed potatoes. The meat and veggie layer usually includes ground beef or lamb, onions, peas, and carrots, with a gravy-like sauce. It's then topped with mashed potatoes and baked. There are of course many variations to this basic recipe. 
To make an AIP compliant shepherd's pie, it's necessary to replace the mashed potatoes with an AIP compliant starchy vegetable.
Many people use sweet potatoes (orange or white) for this. Yucca, malanga blanca, carrots, or cauliflower would also probably work. However, I decided to go with mashed plantains. It sounds weird but they taste amazing. As long as the plantains are very green, they turn out great. 
Here's how to make this lovely AIP shepherd's pie:
Peel, cut, and boil the plantains. Mash them up adding some coconut oil, water, and salt. 

On the stove, you'll saute the ground beef and vegetables, adding in the herbs, coconut aminos, and vinegar. 

Make a slurry with water and arrowroot starch and add it to the meat mixture to thicken it a little bit. 

Add the meat mixture to a glass baking dish and top it with the mashed plantain mixture. Smooth it out on top. 

Bake at 400 degrees for 20 minutes or until it starts to brown on top. 
AIP Shepherd's Pie Tips
Make Sure Your Plantains are Very Green
.
If they are yellow and/or have brown spots or if they're soft at all, they likely won't work well. The riper the plantains, the sweeter they are. You don't want sweet mashed plantains on top of your meat pie! 
Add the Water to the Plantains Gradually.
When you mash the plantains add the water gradually to be sure you have a nice thick "mashed potato" mixture.
When I made this the other day, I just dumped 1 cup of water into the mixture of 4 plantains (per the recipe which worked beautifully before) and it was super thin and soupy.
At that point, it occurred to me how much plantains can vary in size. When I made the Mangu/mashed plantains the other day, I was using much bigger plantains. My point here is that "4 plantains" is not an exact measurement so add the water gradually to get the right texture.
Use Fresh Herbs if Possible
If you're able to use fresh herbs, they do greatly enhance the flavor. If not, see the ingredient notes above for the dried herb conversions.
How Long Does Shepherd's Pie Keep in the Fridge?
Shepherd's pie will stay fresh in the fridge for 3-4 days in an airtight container. 
Can You Make AIP Shepherd's Pie Ahead of Time?
Yes! This is a great make-ahead meal. Just assemble the dish per the recipe instructions (but don't bake it). Allow it to cool, then cover it with foil and put it in the fridge for up to 2 days before baking or up to 2 months in the freezer.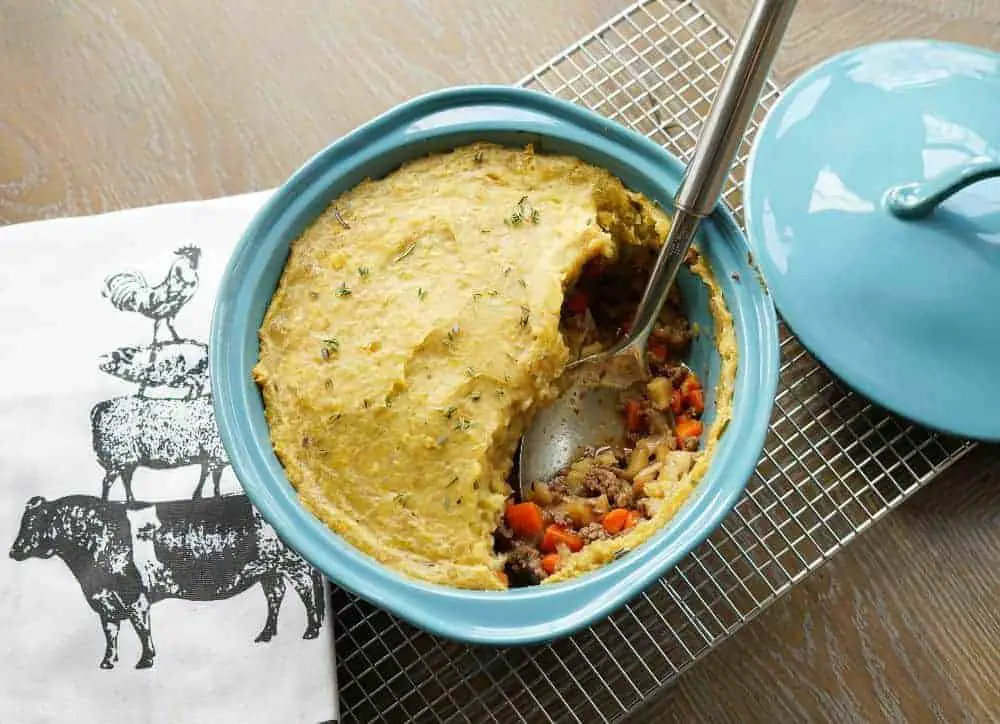 Conclusion:
I hope you found this post useful. If you tried this recipe, please leave a comment below!
Don't forget to follow me on Instagram @foodcourage for the latest AIP/Paleo recipes, autoimmune nutrition info, and Food Courage happenings!
If you liked this post, please share it!
Shepherd's Pie (AIP, Paleo, Gluten-Free, Whole30)
Print
Pin
Rate
Ingredients
Mashed "Potatoes"
4

large

green plantains

3

tbsp

coconut oil

1

cup

water (reserved from boiling the plantains)

1

tsp

sea salt
Filling
1

tbsp

olive or avocado oil

1

cup

yellow onion, diced (about 1/2 an onion)

2

cups

carrots, diced small (3-5 medium carrots)

2

cups

parsnips, diced small (1-2 parsnips)

3

cloves

garlic, minced

1

pound

ground beef (less than 15% fat)

2

tsp

fresh rosemary, finely diced

1

tsp

fresh thyme, finely diced

1 1/2

tsp

sea salt

1

cup

chicken both or beef broth

1/2

tbsp

apple cider vinegar

1

tbsp

coconut aminos

1

tbsp

arrowroot starch

2

tbsp

cold water
Instructions
Bring a medium-sized pot of water to a boil over medium-high heat.

While waiting for the water to boil. Peel the plantains. Cut them lengthwise into quarters. Remove the seeds if desired. Cut the quarters in half to form 8 short pieces per plantain. *how you cut the plantains isn't super important- just cut them into small-ish pieces so they boil relatively quickly.

Add the plantains to the boiling water. Boil for about 20 minutes or until fork-tender. Set aside when done.

Meanwhile, preheat the oven to 400 degrees Fahrenheit.

In a medium pan over medium-high heat, heat the oil. Add the onions, carrots, and parsnips. Cook for about 8 minutes or until they start to soften. *Reduce heat to medium if needed.

Add the ground beef and seasonings. Continue stirring occasionally and cook until the beef is browned.

Add the broth, coconut aminos, and apple cider vinegar.

Make a slurry with the arrowroot starch and water. Add it to the pan with the meat mixture. Cook 2-3 more minutes until the sauce starts to thicken. Remove from heat.

Pour the meat mixture into a glass baking dish (8 inch round or 9x11 in). Make sure it's deep enough for the filling and the "potato" topping.

Mash the plantains with a fork or potato masher. Add in the water gradually (you may not need the whole cup), along with the coconut oil, and sea salt. Make sure they are nice and thick.

Add the mashed plantains to the glass dish on top of the meat mixture. Spread the plantains evenly and all the way to the edges of the dish using a rubber spatula. Form a smooth surface on top.

Bake for 20-30 minutes at 400 degrees Fahrenheit or until the plantain surface starts to brown.

Remove from the oven and allow to cool slightly. Sprinkle with extra thyme and rosemary for garnish and serve.
Notes
Storage: This dish

will stay fresh in the fridge for 3-4 days in an airtight container. 
To Prep Ahead of Time:

assemble the dish per the recipe instructions (but don't bake it). Allow it to cool, then cover it with foil and put it in the fridge for up to 2 days before baking or up to 2 months in the freezer. 
Nutrition
Serving:
1
cup
|
Calories:
472
kcal
|
Carbohydrates:
60
g
|
Protein:
17
g
|
Fat:
21
g
|
Cholesterol:
48
mg
|
Sodium:
301
mg
|
Potassium:
951
mg
|
Fiber:
7
g
---
---